Residential Areas Covered
Our residential appraisal coverage area includes the State of Michigan counties of Washtenaw, Lenawee, Oakland, Wayne, Livingston, Jackson and Hillsdale. See representation map below.
Michigan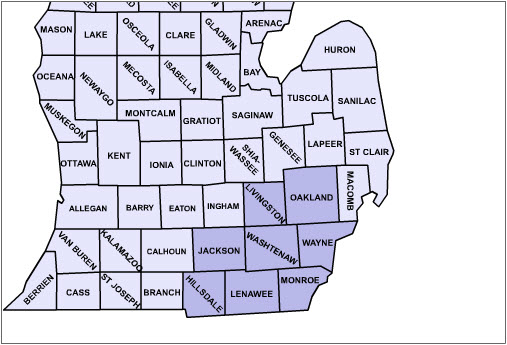 Commercial Areas Covered
The area of coverage for our commercial appraisal services includes the State of Michigan and Ohio. Our main areas of commercial appraisal coverage is Southeast Michigan and Northwest Ohio.
Please contact Paul K. Bidwell, MAI, ASA to discuss further our specific commercial appraisal service areas by phone at 1-800-305-8832 or by email at pbidwell@ccim.net

Ohio

__________________________________________
Find out more about our Commercial Services here
__________________________________________
Maps are courtesy of www.digital-topo-maps.com